Independent elevator servicing and repairs
Marshall Elevator Services is a privately owned company
specialising in the repair, servicing and modernisation of
most makes of elevator.
We provide a dedicated, personal service for small businesses and private individuals, whilst also providing sub-contracting services for established lift companies. Based on the South Coast we are centrally placed to serve much of the Southern Counties. See our Geographic Coverage page for more detail of the areas we cover.
Capabilities
Our core range of services comprises repairs, maintenance, call outs, upgrades, replacements, servicing and modernisation works — all aimed at keeping your elevator running efficiently, reliably and safely.
Whilst we are capable of tackling all aspects of elevator work, the list below shows a selection of the typical activities we undertake: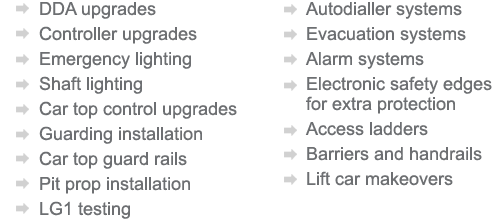 Experience
As an independent company, we are able to source parts from a wide range of suppliers to suit your particular needs and budgets. With more than 20 years experience within elevator servicing we have extensive working knowledge of most manufacturers systems including; Kone, Thyssen, Schindler, Otis, Stannah and Express Elevators.
A safe pair of hands
Marshall Elevator Services takes great pride in the professional service it offers all of its customers. Experience and capabilities are supported by the latest training on LG1 testing as well as health & safety policies. We are able to meet guidelines set by the Disability Discrimination Act (DDA) and can advise clients on the most cost effective solutions to increase safety and accessibility. We are also CIA and CSCS registered and are covered by full public and employer's liability insurance.
Safecontractor approved
Marshall Elevator Services has achieved safecontractor accreditation certificate no.S00218095