Sub-Contracting Services
Marshall Elevator Services was primarily established to provide a high quality, dependable sub-contracting service to the lift industry. With over 20 years experience working for some of the biggest names in the industry we have the knowledge to undertake all aspects of repairs, maintenance and upgrades across all makes of lift. More importantly we understand the importance that efficiency, timeliness and reliability play in maintaining quality customer service.
A Trusted Partner
We work in partnership with a number of large established lift companies and operate on an unbranded basis, with plain vehicles and workwear to ensure the integrity of our clients' customer relationships. We acknowledge that when sub-contracting we are representing a client's organisation and brand, so we strive to meet and often exceed the standards set by their own engineers.
Flexible
We are happy to undertake small one-off jobs and also work on larger contracts. If the duration of a particular contract extends beyond a number of days we are happy to travel further afield and can even operate in mainland Europe if required.
Capabilities
Our core range of services comprises repairs, maintenance, call outs, upgrades, replacements, servicing and modernisation works. We are capable of tackling all aspects of elevator works, the list below shows a selection of the typical activities we undertake: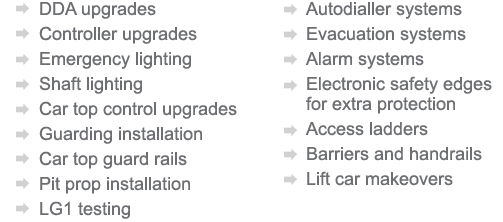 If you are interested in finding our more about our sub-contracting service, please call us today to find out how we can tailor our service to meet the needs of your business and your customers.